In this penultimate installment of Craft Table Chats we reflect on 2014 and for the last post we'll look ahead to 2015 (or what's left of it). If you recall, this series spawned because I wasn't sure how to proceed into the new year and I felt uneasy looking back at 2014—for all my highlights, I could only see frustrations and trip-ups.
Warning: This post is very image heavy, you may need to refresh your browser if the pictures don't appear.
What do you focus on when a new year rolls around?
Tara – I take an opportunity to look back at what I've done, evaluate the year, and look towards what I can accomplish in the next.
Amy – I have always enjoyed the feeling of a new year and its promise of a fresh, clean start. It's a chance to regroup and reset priorities.'
Brooke – A new year is always a nice break from all the busy holidays. It's usually a time for a new freelancing job and a time to start thinking about my own personal sewing projects.
Sarah – I think of my years by the projects and life-goals I have lined up, so I'm focusing on the shows I've signed up to design, possible wedding dress clients and things in my personal life that will change.
Marian – Learning something new. This year is all about details and sticking to them. I don't have anything planned that's egregiously out of my comfort zone, but I want to make everything to the best of my capabilities (or even to push those capabilities a bit).
Tasukigirl – I don't really have a focus other than picking out what I want to cosplay.
Tyraenna – I typically take restock of my blog and decide if there are any changes or goals I want to make or achieve.
Tally – Honestly, I always start out with a sort of blind optimism that I can wrap up the previous year's dangling projects and commitments and start fresh. It never quite works out, but I live in foolish hope. Around New Year's I tend to be focused on a combination of all the things I didn't finish before Christmas, the commissions I promised I'd suddenly have time for in the new year, and a plethora of fresh project ideas cropping up for the Valentine's / spring / Easter / summer dresses seasons ahead. It's a dangerous time.
Meris – I'm usually ruminating on things that I didn't finish and making my cosplay list for the next year. I also have traditionally made a resolutions list, but I'll ask you about that in a bit. Many of you positively reflect on the year past and I am trying to do that more. More reflecting, less ruminating.
What is In your 2014 highlight reel?
Tally- it's been a rough couple of weeks and this is a nice question to answer, just to go back and remember things I accomplished and am proud of. It can be weird as a creative person – you feel proud of your skills and creations at the very same time as feeling inadequate and like you haven't done enough… So as self-indulgent as it may be, spending some time looking back over your projects and saying "Oh yeah, I did that" is a good feeling and also probably healthy.
Amy – When I think back over 2014, the highlight was definitely my daughter.
Tasukigirl – 2014 has been an interesting year…events like cosplay gatherings at Fanime, Anime Expo, and PAX prime were my highlights. I also got to do an awesome photoshoot with Forcebewitya in Malibu. I've admired his work for years so that was really fun!
Brooke – "Recent freelancing has suddenly gone from "absolutely nothing" to "I'm booked into the beginning of next year!" Such is my career."
Something I worked on last summer [was] be on display at the Dallas Arboretum for the holidays! The 12 Days of Christmas exhibit – an elaborate collection of life-size Victorian gazebos filled with the charming costumed characters made famous by the beloved Christmas carol
I helped make some youth circus costumes back in May. Lots and lots of tiny appliqué (spandex on spandex) and ruffles… and thread! I really blew through the thread on this project: (note the photo of the garbage can in the lower right)
Back at the end of September, I was hired to build dresses for two identical mannequins for a revamped outdoor Christmas display in Wichita Falls. The request was for something that resembled the red satin dresses with white fur trim seen at the end of the 1954 movie White Christmas. See the finished dresses and Brooke's full write-up in this post.
Marian – 2014 was a big year in terms of my production. Regularly, I'll do about two costumes a year: one for spring conventions, and another in the fall. In 2014, I quintupled my production with 10 costumes through the whole year.
(Meris's jaw just drops. Marian, can you be my costume-life coach?)
Tara –
Was on TV/Radio as a finalist in the Girl Scouts Cookie Contest.
Successfully funded the "Geeky Sprinkle" Kickstarter.
Released the second season of my web series, "Job Hunters."
Named "Geek of the Week" in November.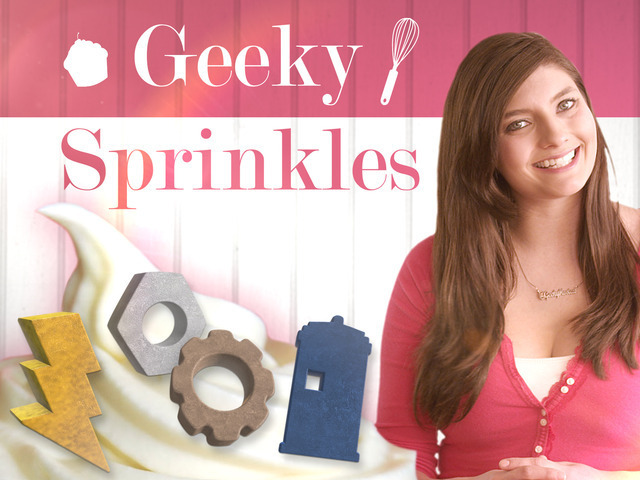 Tyraenna –
May's Spacey Summer Sewing Series,
Rainbow Dash costume:
Nasus costume:
Hades costume:
Settlers of Catan dress:
Sarah – I finished my wedding and reception dresses in time for my January wedding, worked with 2 more incredible clients on wedding outfits, one for a wedding in Florence and one for a wedding in the desert outside Las Vegas. I also worked with some fascinating people on a few shows that I was quite proud of, including a fun and adorable children's show and an evening of Beckett plays (a unique and rare treat).
Tally – my Journey dress…I made to wear to PAX Prime. The appliqué on it was SO MUCH WORK but I'm really proud of it. Really delighted with my cat dress, too. Why should 4-year olds be the only ones to wear clothing that makes them look like cute little animals?
I turned my old high school show choir dress into a new updated party dress for the annual Child's Play Charity dinner.
Desert Bus is one of my big accomplishments of the year, and the GIANT octopus plush I made for it is something I'm pretty darn proud of. That's the largest plushie I have ever created. I figure he took something like 10-12 lbs of stuffing, and he was about 4.5 feet tall from head to tentacle-tip.
I'm also quite proud of the parody I wrote of Macklemore's "Thrift Shop," which was of course titled "Craft Shop." (You can watch the performance here.)
Meris –
1) winning a contest to design and make our wedding rings and then getting to make the rings. Our contest entry focused on our couple-cosplaying and our friends in the geek community really threw in their support behind us. I get warm fuzzies whenever I look at our rings.
2) Leliana costume debut at PAX – this was the first costume I've made for a game that hasn't released yet. She and my husband's Inquisitor appeared in the Dragon Age & Mass Effect Cosplay Boom video.
3) Led a costume fabric workshop with Sarah at Zeita Studios.
4) Getting a promotion at work to Gallery Programs Coordinator!
5) I was on three convention panels – Building Cosplay Communities at ECCC and Craft Panel at PAX, and Careers You Haven't Thought Of at Geek Girl Con. I love anything that builds community and lets me meet other creative people. Tasukigirl and I wanted to host a panel about cosplay mentorship, support, community at PAX, but it wasn't selected. She introduced me to the Open Book Cosplay mentor badges and the craft panel still provided me the opportunity to talk about them.
(Photos taken by Andrew Ferguson. You can find him on Twitter @warandpeace or his website: http://goldengod.net/.)
When I wrote this question I wanted to know what stood out for you during the year. Selfishly, I wanted your answers to jog my brain into focusing on my highlights. I am too quick to criticize or pick apart something and I can lose the feelings of success. After reading about half of "The Confidence Code" and all of Amy Poeler's "Yes, Please", I see the deeper importance of this question. Not just to me, not just to the women in at this Craft Table Chat, but to all of us engaging in the creative communities. Success and pride and optimism breed confidence in ourselves. Being aware of our failings is good – no one is perfect, that is the enemy of the good – and being able to see people we idolize as real, flawed humans can be encouraging. But think about the trolls who deride others in the comments section or bullies who make fun of others on the playground. Most of those people are lashing out because of their own insecurities. If we are confident in ourselves and encourage and nurture confidence in others, maybe we'll see a day when fewer trolls exist. (Yes this is getting into a "let's hold hands and sing kumbaiya" territory, but I am a firm believer in change starting with individuals and spreading to larger communities.)
What in the last year brought you the most pride, joy, frustration, stress, or challenge?
Tasukigirl – My most frustrating costume was Sacha from Teahousecomic. I remembered why I never chose to cosplay anime characters because the hair is always ridiculous! I also worked with a fabric I wasn't accustomed to for the tunic. Needless to say, I was very happy when I finished it…
That being said, I also made my James Kidd costume this year and that's definitely some of my better work. I spent a good four months on the project and spent a lot of time on the small details…this project was a good reminder of what I can accomplish when I really put time and energy into something.
Marian – Finishing Fandral was honestly the costume that proudest of and happiest to finish. It required a really grand learning curve: while I've worked with foam armor before, the construction required a lot more intricate detail and construction than I was really familiar with, and I hadn't really foreseen being successful when I started it (or at least not as successful as I was). The only real frustration is that I can only wear it for short periods at a time, it doesn't breath, and it's easily the most cumbersome project I've taken on.
Amy – Each and every project I finished this past year was wrapped up in a lot of pride and joy.  It was just so hard to make the time for anything personal this past year.  Every moment that I was able to sit down in front of the sewing machine felt like a small triumph.  A completed project was a huge accomplishment. In contrast though, every stitch that needed to be ripped out felt three-fold worse than it would have the year prior!  Such a waste of precious sewing time…
Tyraenna – Working with Worbla and Wonderflex for the first time was a definite challenge.  I enjoyed learning something new, and I intend to use the skills again, but I feel like I reminded myself exactly how much I really love SEWING.
Meris – Leliana is all three. (Do I sound like a broken record yet?) Some of my best construction. Holly and Jessica complimented my piping during the Bioware cosplay parade (cosplay victory moment!) Also a poster example of letting perfection be the enemy of the good. I am also proud that I consciously made myself step back and let a few pieces slide in favor of my mental health. I am still anxious to start on her shoulder and upper arm armor. I was devastated when I realized she is too warm and too unbreathable to wear for very long. She gave me a migraine and I had to listen to the PAX Prime Acquisitions Inc. game while in the fetal position on my couch.
Brooke – The biggest challenge was probably the dresses I made for a couple of mannequins for an outdoor Christmas display because it was the biggest project I was paid to do without a team of costumers working on it with me. It was just me doing it all. There was a lot of sweating (physical labor); a little blood; but luckly, no tears. I was very glad when that project was over and gone!
Tara- Geeky Sprinkles! It brought me everything–pride, joy, frustration, stress, and challenge. The Kickstarter was a lot of work and (as always) was stressful and exciting as the amount counted up. The manufacturing process has been incredibly long and complicated, and has taught me a lot about all of the details that go into creating a new product, as well as basic business principles and a healthy dose of patience.
Tally – Desert Bus. That's pretty much the answer to all of those things. ☺ There are other answers too, but that one covers them all.
Our last chat will focus on what we have planned for 2015. See you soon! 
---
Click here to read the full Craft Table Chats series. The Craft Table Chats include –